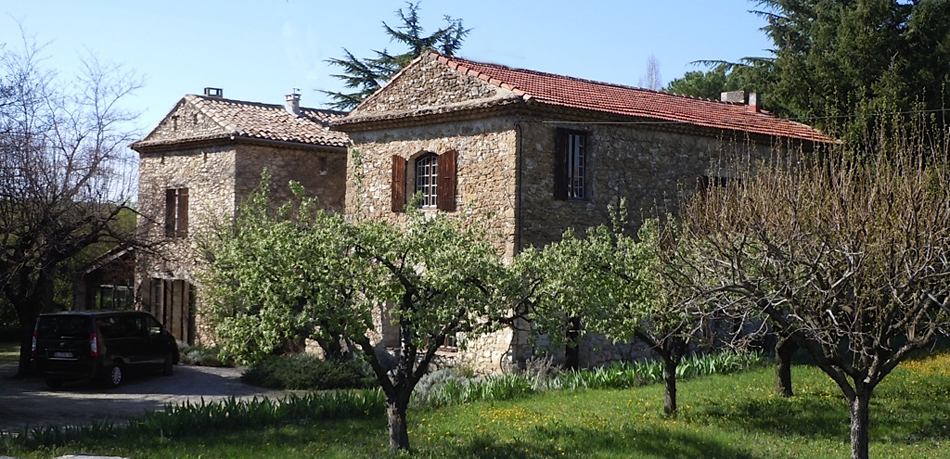 The Mas des Arcs

Our House in Provence
The Mas des Arcs is in a greenbelt on the outskirts of Vaison la Romaine, an old Roman town in the Vaucluse, about three-quarters of an hour northeast of Avignon (see Map at the bottom). Vaison is a lively market town with several bakers and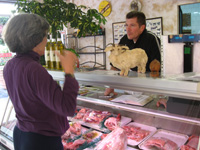 good local butchers, a greengrocer with superb produce and one of the best cheese stores in France. People come a long way to enjoy Vaison's weekly market, where you can get everything from antiques to organic goat cheese. And if you want a change from shopping, you can explore several acres of Roman ruins right in the middle of town or cross the first-century Roman bridge to Vieux Vaison, a walled medieval hill town with tiny squares, c obblestone streets and a ruined castle at the top. There are good restaurants in Vaison as well as outdoor cafes for people-watching on the main square. You'll find a folder in the house with notes about places to sh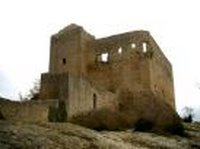 op, restaurants, wines, and ideas for excursions.
There is a restored Roman theater across the street, where they have dance and music concerts. You can play tennis at a tennis club five minutes away. There are many local vineyards where you can talk to the winemaker as you try his or her wine, olive groves and cherry orchards, typical Provençal stone farmhouses and medieval villages perched in the hills. Vaison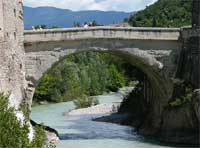 is within day-trip distance of Orange, Les Baux, Nîmes, Arles, Aix en Provence and Marseille. L'Isle sur la Sorgue, an important antiques center, is less than an hour away. In the winter there is skiing on nearby Mont Ventoux and world-class skiing in the Alps as little as two hours away. The whole region is wonderful for hiking, walking, bicycling, and exploring by car. There are many good restaurants and several exceptional ones within half an hour's drive of the house.
The Mas des Arcs is a nineteenth-century stone farmhouse, built partly from stones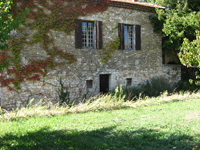 recycled from Roman buildings. In the cellar you can see a whole section of wall built with these stones. The house is built around a small courtyard with a wrought iron gate. Up until the middle of the twentieth century it was the farmhouse for a working farm. There is the base of an old olive oil press in the cellar. In the living room there is a huge working fireplace that the farmers used for their cooking; there are logs to burn in it if the day is cool.
The house is set on more than an acre and a half of land, with a small vineyard, a pine grove and a swimming pool. In the winter and early spring there are daffodils and other flowering bulbs, in the summer the fragrance of our lavender. There are fig trees, plumtrees, cherry trees and almond trees on the grounds and muscat grape vines in the courtyard and on a sunny south wall. This means blossoms in the winter and spring and fruit that you can pluck and eat in the summer and fall. We have planted herbs---rosemary, thyme, sage, tarragon and winter savory---that you can use in your cooking along with the leaves of a bay tree that stands outside the kitchen, protected from the winter cold by a huge old Cedar of Lebanon.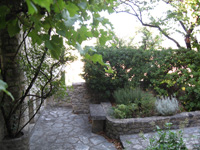 We spend a lot of time in our house in Vaison, so we have tried to make it as attractive and comfortable as possible. There are antique wooden shop signs and folk art---Haitian, Balinese, Mexican, French and American--on the walls. There are several Persian rugs on the floor that we brought back from Iran; we found one of them in a black tent of the Q'ash Q'ai nomads. There are also some of our own paintings and rugs. We do ask you not to smoke inside the house.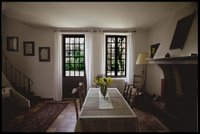 Downstairs the house has a large living room/dining room/library with a fireplace, a TV and a radio/ CD/tape player, a lavatory, the sun room and a large kitchen, equipped with five-burner, two-oven stove, a dishwasher, coffee maker, toaster and food processor. There is a clothes washer in the back for laundry. Upstairs there are four double bedrooms---three with two-person beds and one with twin beds---and one single bedroom, so the house can take up to nine people. There is also a crib in case you will be traveling with an infant. There are two bathrooms upstairs, one with a shower and one with a bath and
shower. Across the courtyard are the ping-pong room and another lavatory. The house is well supplied with dining, bed and bath linens and is well-heated for the colder months. On the grounds there are several fragments of Roman architecture. There is plenty of room for parking. Outside the kitchen door there is a dining area facing the vineyard, where we have most of our meals during the warmer weather.
Vaison has a lively musical scene. It calls itself the European Choral City and is famous for its Choralies, a triennial festival where choruses from all over Europe come to sing in the Roman theater and other sites in the city. But there are more intimate music programs all the time, in the Roman theater, in the churches, at the Chateau de la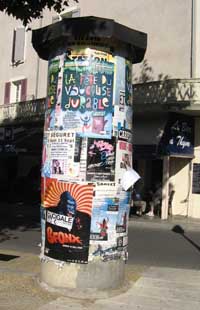 Villasse. And serious dance is produced at the Roman theater in July. Once when we were there a rock group had a gig at the Roman theater. It was so loud that we decided we would give back $100 for any night that renters said they were disturbed by sound from the theater. Fortunately concerts like that are very rare; we have rarely been asked for a refund. On the whole noise isn't too much of a problem. Although the house is only a six minute walk from the center of town, it is in a greenbelt and it's oriented toward the vineyard, which is surrounded by a high hedge that not only keeps out noise but
makes it very private. Mainly from the front bedroom you can often hear the traffic from a secondary road a few hundred feet away and a few evenings in the summer you can hear the music from Roman theater. But as one of our friends says, "The vibrant life of your 2000-year-old Provençal town against the occasional noise? It's worth it!"
We bought the Mas des Arcs in 1989 and spend time there at least twice a year. We love our house in France and hope you will too.

What it costs to rent the Mas des Arcs.

Our weekly charges, Saturday to Saturday, are:
Week starting
First week of rental
Later weeks

June

15 through July 31
$3400
$3200

August

1 through October 31
$3100
$2900

November

1 through March 31
$1000
$1000

April

1 through June 14
$2700
$2500
The house can be rented for up to nine people, with a supplement of $200 for any week when there are more than six people. There is a guarantee deposit of $500.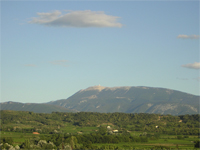 To artists - Vaison is a great town to paint in, with beautiful scenery all around: villages, vineyards, castles and mountains, including Mont Ventoux, the highest free-standing mountain in Europe. (In many years Mont Ventoux is a stage of the Tour de France. They race up to its 6263-foot top, a feat we find incredible.) We rent our large cathedral-ceilinged studio to serious artists and art workshops for a supplement of $500 a week
Practical matters. When to come. We like to vacation in Vaison at any time of year, but springtime in April and May and the wine harvest from mid-September until mid-October are particularly delightful. The winter season is a real bargain. It's usually sunny, without much snow. The normal winter temperature is around fifty in the day and the lower thirties at night; it can even get as high as the sixties during the day. Winters and especially summers in Vaison are usually dry. In between there is occasional rain, but most days are dry. July and the first half of August are hot during the day and cool at night. The average temperature in Vaison is perhaps a degree cooler than in nearby Orange.

Getting there. Vaison is about forty-five minutes northeast of Avignon. Most people fly to Paris, take the TGV train (or fly) to Avignon, and rent a car there; or you can fly from either Paris or London to Marseille and rent a car at the airport. Nice is about a three hour's drive from Vaison and Geneva about four hours.
Phyllis Nauts
65 Johnson Road
West Cornwall, CT 06796-1623
Telephone:860-672-6608
Email: pnauts@optonline.net
Sadly, Hendon died suddenly in January 2016.